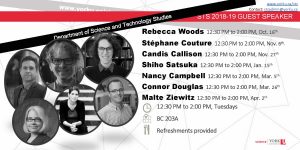 Members of our program coordinate the Research Seminar Series in Science & Technology Studies. The series features seminars on a wide range of STS-related topics, and is sponsored by the Department of Science and Technology Studies. Now in its 17th year, the series has hosted over 500 speakers from Canada and around the world. It is open to the public, and STS majors are especially encouraged to attend.
All seminars take place on Tuesdays from 12:30-2:00 in 203 Bethune College (Norman's) (unless otherwise noted) and are open to the public. Light lunch will be provided. Directions are available using the York University Map.
Please click below  to see the poster of previous seminar series.
STS 2018 - 2019 Seminar Series
October 16
Rebecca Woods
Toronto
November 6
Stephane Couture
York 
November 27
Candis Callison
British Columbia
January 15
Shiho Satsuka
Toronto
March 5
Nancy Campbell
Rensselaer
March 26
Conor Douglas
Maastricht
April 2
Malte Ziewitz
Cornell
---
October 16
Rebecca Woods (Toronto)
---
 November 6
Stephane Couture (York)
---
 November 27
Candis Callison (York)
---
 January 15
Shiho Satsuka (Toronto)
---
 March 5
Nancy Campbell (Rensselaer)
---
 March 26
Conor Douglas (Maastricht)
---
 April 2
Malte Ziewitz (Cornell)